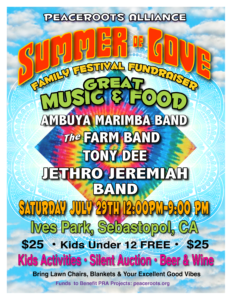 Join us for another gathering of family and friends to come together, rejuvenate our spirits, dance, eat and be with each other for a good cause. Save the Date!
Saturday, July 29, 2017
Ives Park
7400 Willow St., Sebastopol, CA 95472
12pm – 9pm 
Tickets $25.00 –  http://www.brownpapertickets.com/event/2885577
Bands set to play:
12:30 p.m.: Ambuya!
1:30 p.m.:   The Farm Band
3:15 p.m.:   Tony Dee
4:30 p.m.:   Jethro Jeremiah Band
Quilt Raffle
PeaceRoots Alliance will be having a raffle for this queen-size quilt.  Hand tie-dyed by Linda Speel, quilted by Judith Biondo Meeker from the More Than Warmth project.  Tickets are $5.00 each or 5 for $20.00.  Drawing will be held July 29th at the PeaceRoots Family Summer Festival 2017, 2017. Need not be present to win!  You can get tickets from linda@peaceroots.org or mail checks to PRA, PO Box 255, Petaluma, CA 94953.
We will also have a silent auction.
Food and drinks available
Funds to benefit PRA projects: